At the 2007 Gesneriad Society convention in Miami, two plants of this species were exhibited, both having traveled 3000 miles to get there! Bill Price's plant is shown on the Gesneriad Society website. Peter Shalit's was equally striking, with fewer flowers but two large leaves, which makes the transportation accomplishment all the more impressive.
Bill's striking tuber-and-flowers plant brought up an interesting judging puzzle: How do you judge "cultural perfection" if there aren't any leaves?
The picture below is Peter's plant.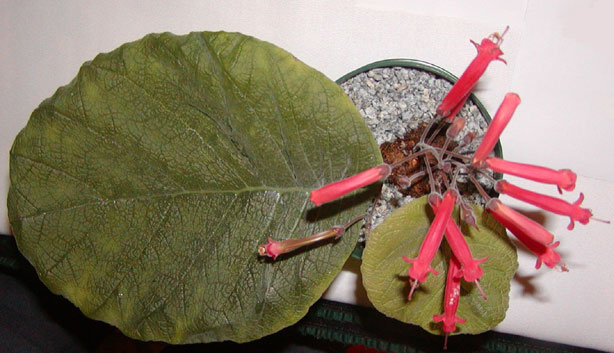 In 2010, Bill Price exhibited a sinningia collection which included a large Sinningia defoliata with five leaves. Pictures of this plant can be seen here.
Feature table for
Sinningia defoliata
Plant Description


Growth
Determinate, sort of
Habit
Extremely compressed stem(s), with only one leaf per stem expanding. Flowerstalks grow directly from tuber
Leaves
Light green. Upper surface slightly sticky.
Dormancy
Leaves deciduous, with compressed-stem stumps remaining on tuber. Dormancy may be very short -- sometimes blooming lasts until new leaf growth begins. On the other hand, dormancy under my conditions has lasted as long as six months (but not recently -- new shoots starting before the bloom cycle is complete is the usual situation).

---

Flowering


Season
According to Appendix 1 in Perret et al. [see references] S. defoliata blooms in August-October in Brazil. This is late winter and early spring there. Mine usually blooms in autumn or winter. The plants exhibited by Bill Price and Peter Shalit in Miami 2007 were obviously blooming in mid-summer. Growing under lights may disrupt the normal blooming schedule. My plants (whether indoors or outdoors) sometimes don't come out of dormancy until summer solstice (mid-June) -- but see above.
Flower
Tubular, red

---

Horticultural aspects


Hardiness
A plant I put outdoors survived 28 F [-2 C] without damage, not even to the leaves. However, the plant did not bloom, even though it had done so in previous years.
Propagation
From seed is easiest, but propagation by cuttings has been done.
Problems and pests
Mildew on one plant out of three, one year
Recommended?
Highly! A single leaf appearing to grow directly from the tuber is a great conversation piece, even when the plant is not in bloom. When it is in bloom, it's even more interesting! More people should grow this species. The only downside is that the horizontal leaf takes up a lot of room under lights. Positioning the plant in front of a window, so that the light comes from the side, can result in a vertical leaf, which is very striking.

---

Botany


Taxonomic group
The second core group of the Corytholoma clade.
Mauro Peixoto's web site has what appears to be a picture of S.defoliata in habitat.
Malme, 1937, as Corytholoma defoliatum. Chautems transferred it to Sinningia in 1990.
Etymology: from Latin de- ("off, down, away") + -folia ("leaf").
Not, presumably, "leafless" but rather "leaf dropper".
While most sinningias drop their leaves at some point, it is the habit of blooming while leafless that inspired the name.