Sinningia 'Texas Gift'
Sinningia 'Texas Gift' is a red-flowered hybrid that is well worth growing. It is an attractive plant with a long blooming season.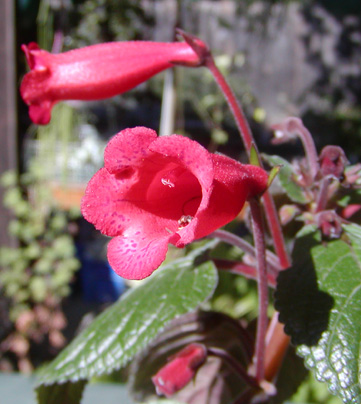 Sinningia 'Texas Gift' is the result of a collaboration between Dale Martens and Nick Miller (of New Zealand). Dale did the cross and sent seeds to Nick, who grew one of the seedlings to maturity and chose the name.
According to Dale, the parents were (1) Sinningia glazioviana x S. eumorpha and (2) one of Peter Shalit's peloric hybrids that had a calyx double in its background.
The eumorpha influence is obvious in the leaves, but strikingly absent from the flowers. S. eumorpha ancestry usually results in lavender or pink flowers or yellow stripes in the corolla. However, the S. glazioviana x eumorpha parent (which can be seen on the GRW) also shows very little eumorpha influence, but narrower, glazioviana-heritage leaves. This suggests that S. glazioviana is a good parent for getting red flowers.
These pictures do not do the plant justice. I will try for better culture and better pictures when it blooms next.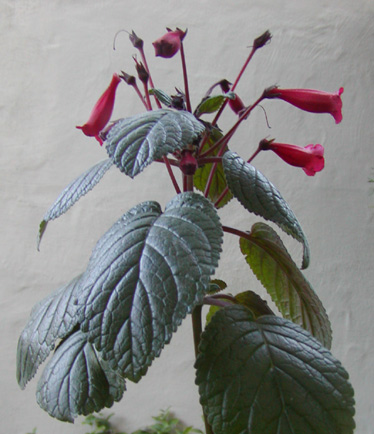 Feature table for
Sinningia

'Texas Gift'
Plant Description


Growth
Indeterminate
Habit
One or more erect stems, usually dark red, with leaves in opposite pairs.
Leaves
Eumorpha-like. Petioles are red.
Dormancy
The plant has a tuber, but did not go dormant in the winter of 2008-9.

---

Flowering


Inflorescence
Axillary cymes with 1-4 flowers.
Season
Blooms in summer and autumn.
Flower
Tubular, red, to 5 cm [2 in] long.

---

Horticultural Aspects


Hardiness
Has survived 29F (-1.5 C) in my back yard
Recommended?
Yes. The flowers are as handsome as those of S. 'Tampa Bay Beauty', but the foliage is much more attractive.

---

Hybridization


Hybridizer
Dale Martens, with selection by Nick Miller
Fertility
At the moment, unknown to me.

---

Botany


Taxonomic group
Parents are probably in the Dircaea clade. I have not tried hybridizing with it, so I don't know whether it is fertile.