Sinningia 'Tampa Bay Beauty'
Sinningia 'Tampa Bay Beauty' was hybridized by Paul Cummiskey (who also created S. 'Anne Crowley'). This hybrid was produced at Small's, a nursery in Florida which used to be one of the leaders in gesneriad hybridizing.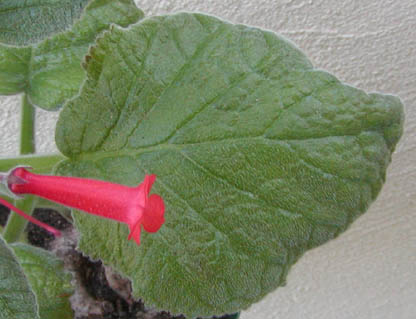 This plant is famous both for its beautiful red flowers produced in great abundance, and for its unbeautiful leaves. The curled and often twisted foliage makes it difficult to get "cultural perfection" from this plant, so it is not seen as often in shows as its flowers would suggest.
See a picture of its tuber.
The tuber did not survive the freeze of January 2007.
Plant Description


Growth
Determinate
Habit
Upright stems with few leaf pairs
Leaves
Green, hairy
Dormancy
Stems fully deciduous

---

Flowering


Inflorescence
axillary cymes from the uppermost nodes
Season
Blooms in summer
Flower
Tubular, red

---

Horticultural aspects


Hardiness
Survived 28F in my yard, but was killed at 26 F (-3.5 C)

---

Hybridization


Hybridizer
Paul Cummiskey
Fertility
This hybrid must be fertile, since Mike Kartuz used it to create S. 'Roxy'.