Sinningia speciosa 'Carangola'
This variety of the species has dramatically colored flowers and grows larger than most other varieties.
Probably the most dramatic natural variety of Sinningia speciosa is the one called 'Carangola'. It is a very large plant with large white-and-bluish-purple flowers. The leaves have a sort of eumorpha look to them, but are borne in the standard speciosa decussate rosette.

All three pictures on this page were taken at the 2008 Gesneriad Society convention in Denver. The plant was exhibited by Bill Price.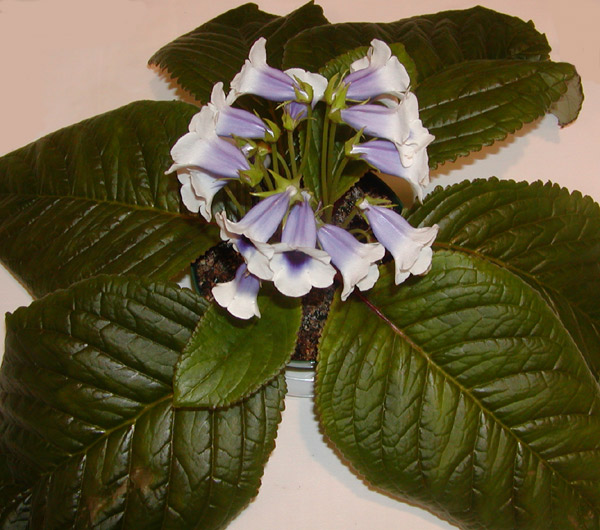 You might not want to try this at home. Bill's plant was at least 60 cm [2 feet] across (I forgot to bring my tape measure). Also, this variety has a reputation of being rather difficult. What is possible in Bill's home may be only a vain hope in anybody else's.
This form of S. speciosa, with its trumpet-shaped flowers on short pedicels, shows a distinct resemblance to Sinningia macrophylla.
Carangola is a town on the eastern edge of Minas Gerais state in Brazil, about 160 km [100 miles] from the Atlantic Ocean, in hilly country. It is the place which Sinningia carangolensis is named after [carangolensis = "resident of carangola"]. Based on the map in the paper of Perret et al. about Sinningia speciation, it would appear that Carangola is near the northern (that is, most tropical) limit of the primary concentration of species in the sinningia tribe. There are species further north (most notably, the widespread S. incarnata and S. elatior), but not nearly as many as to the south.

Carangola is about 320 km [200 miles] due north of Cabo Frio, where the Atlantic coast of Brazil, which is mostly west-east in the vicinity of Rio de Janeiro, takes a sharp northward turn. Cabo Frio ("cold cape") has its own variety of Sinningia speciosa.