That's the good news. The bad news is legion.
Humidity: the plant appears to require high humidity, but so do lots of gesneriads.
Mildew: In years past, I had substantial problems with powdery mildew on this variety. This has not been the case recently, after I increased the watering to flood levels. I hope to be able to report my own or somebody else's similar success in coping with the more persistent problems described below.
Leaf drop: As the stem elongates, the leaves on the lower half of the stem droop and drop. In a number of sinningia species (such as S. reitzii), the lower leaves dry up, shrivel, and eventually fall. This variety is unusual in that respect. The leaves do not necessarily shrivel -- only the petioles do. The leaf, still at least partially turgid, hangs from the dried-up petiole, looking ugly.
Bud blast: the worst problem is bud blast. The keeled flowerbuds are quite attractive in their own right. Unfortunately, at any stage of bud development, the bud's pedicel can undergo the same shriveling as described in the previous paragraph for petioles. As this picture shows, it can happen to open flowers, almost-open flowers, and developing flowerbuds. It is particularly disappointing, after one has worked so hard to get those flowerbuds.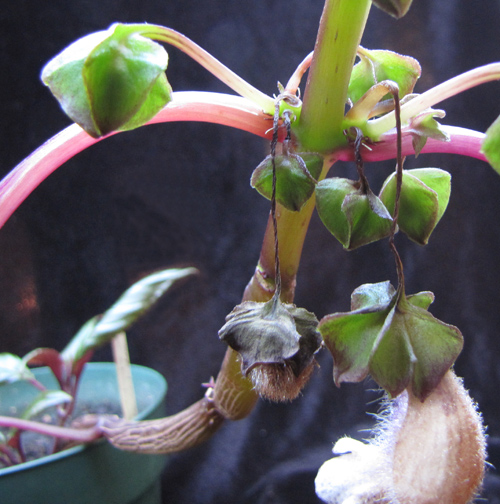 To get any flowers at all, one must water heavily. In my experience, drying out at all is death to flowerbuds on this plant. However, mere wetness is not sufficient to prevent most of the flowerbuds from blasting.